Bullion/Precious Metals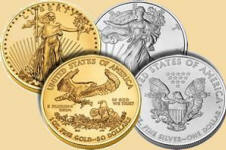 We buy and sell all types of bullion/precious metals. Our customers tell us that we have the best prices whether they are buying or selling. If you are looking for one silver eagle or 10 gold Kruggerands, we can meet your needs. If we don't have something, you want in stock we can get it for you in a timely manner and for a fair price. Below is a partial list of some of the bullion items we deal with.
U.S. Silver and Gold & Platinum Eagles
Canadian Silver, Gold, Platinum, and Palladium Maple Leafs
1oz to 100oz Silver Bars
1 gram to 10 oz Gold, Platinum, and Palladium Bars and Rounds
Silver Art Bars
Silver Rounds
Gold and Silver Kruggerands
And Much Much More...